Roll over image to zoom in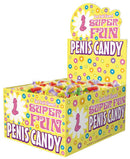 Description
Get ready for a burst of sweet and tart flavors with our Super Fun Penis Candy! These mini candy penises are not only delicious but also incredibly fun to enjoy. Indulge in a playful treat that's sure to bring smiles and laughter to any occasion.
Key Features:
Irresistible Flavors: Our mini candy penises come in a variety of delicious fruit flavors that will tantalize your taste buds and satisfy your sweet cravings.
Fun-Sized Delights: These tiny candy penises are perfect for popping into your mouth for a quick burst of flavor. Their playful size adds to the enjoyment!
Individual Servings: Each candy penis is packaged in a clear bag, providing a convenient and hygienic way to enjoy your treat while on the go.
Perfect for Any Occasion: Whether it's a bachelorette party, girls' night in, or simply a fun gathering, these candies are the perfect addition to liven up the atmosphere.
Eye-Catching Display: The point of purchase display features a colorful cardboard pop-up with an attractive header, making it an eye-catching addition to your event.
Don't miss out on the fun – indulge in the delightful taste and playful experience of Super Fun Penis Candy. With 100 bags per display carton, you'll have plenty of these tiny treats to share and enjoy with friends. Get ready for a burst of fruity flavor and laughter that will make your event even more memorable!
Fast And Discreet Shipping