Roll over image to zoom in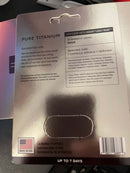 Description
Discover the power of Rhino Pure Titanium, a one-piece male enhancement formula designed to elevate your performance and ignite your passion! With its potent new formula, Rhino Pure Titanium offers a thrilling boost to your intimate experiences.
Caution is advised when using this supplement to ensure your safety and well-being. Remember, do not exceed the recommended intake of one capsule in 60 hours and consult your doctor before use, especially if you have heart problems. If any undesirable effects occur, stop using the product immediately.
Formulated with a blend of powerful ingredients, including Panax Ginseng and Go Li Extract, Rhino Pure Titanium aims to optimize your performance and endurance in the bedroom. It also contains essential nutrients like Vitamin B12 to support overall vitality.
For adult men seeking a natural way to enhance their performance, Rhino Pure Titanium offers an option that may last for up to 7 days. Please store the product in a cool, dry place and keep it out of reach of children.
Remember, Rhino Pure Titanium is not suitable for pregnant individuals, those with high blood pressure, diabetics, or individuals with heart diseases or problems. It is also prohibited for use by individuals under 18 years of age.
Unlock your potential and elevate your intimate moments with Rhino Pure Titanium. Experience the confidence and satisfaction that comes with enhanced performance, and rediscover the passion in your relationships. Explore the world of pleasure and intimacy with Rhino Pure Titanium, the ultimate ally in your quest for enhanced experiences in the bedroom.
Please note that Rhino Pure Titanium is not a medication but a supplement. If you have any concerns or questions, consult with your physician before use. Enhance your vitality and passion with Rhino Pure Titanium and indulge in fulfilling moments of pleasure.
Fast And Discreet Shipping