Roll over image to zoom in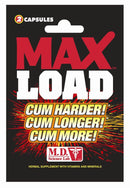 Description
Unleash the power of MaxLoad - the ultimate solution for those seeking to cum harder, longer, and with more intensity. Just like the guys in the movies, MaxLoad dramatically increases the amount of ejaculate fluid, taking your orgasmic contractions to a whole new level. Prepare to feel the eruption and have the best cum you've ever experienced with MaxLoad!
Benefits:
Increased Ejaculate Volume: MaxLoad significantly increases the amount of ejaculate, elevating your pleasure to new heights.
Intensified Orgasmic Contractions: Experience dramatically intensified orgasmic contractions, maximizing your climax.
Reduced Downtime: MaxLoad decreases downtime, allowing you to enjoy a faster recovery for multiple rounds of pleasure.
Ingredients: MaxLoad is enriched with a powerful blend of ingredients carefully chosen to enhance your sexual experience:
Vitamin B6 and Zinc: Vital nutrients that support sexual health and function.
Maca S/E .6%: A natural aphrodisiac that boosts libido and stamina.
L-Arginine: An amino acid that promotes blood flow to the genital area, enhancing erections and pleasure.
Horny Goat Weed S/E 20%: Known for its ability to improve sexual performance and desire.
Tribulus Terrestris 40%: Supports testosterone production and sexual function.
Long Jack 100:1: Enhances stamina and sexual vitality.
Flower Pollen Extract and Pine Bark 95%: Beneficial for prostate health and overall sexual well-being.
Other Ingredients: Di-Calcium Phosphate, Stearic Acid, Magnesium Stearate, Solutab, Silica, Starch, Povidone, Pharmaceutical Glaze, and Talc.
MaxLoad is brought to you by MD Science Labs, a trusted name in sexual enhancement supplements.
Experience explosive ejaculations and intense orgasms with MaxLoad. Upgrade your sexual encounters and indulge in the ultimate pleasure - try MaxLoad today!
Fast And Discreet Shipping