Roll over image to zoom in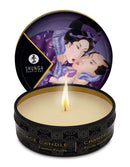 Description
Experience the height of sensual pleasure with the Shunga Erotic Art Massage Candle Exotic Fruits. This exquisite 1-ounce candle is designed to elevate your intimate moments, providing a unique combination of ambiance and sensual massage.
Key Features:
1. Natural Oils: Crafted from 100% natural oils, this massage candle is a blend of hydrogenated soybean oil, coconut oil, sweet almond oil, and more, ensuring a pure and luxurious experience.
2. Lukewarm Sensation: When ignited, the candle produces a gentle, lukewarm oil that feels sensational to the touch, making it perfect for intimate massages.
3. Silky Smooth Skin: Pamper your skin as the candle's oil leaves it feeling soft, silky, and completely nourished.
4. Extended Burning Time: Enjoy uninterrupted moments of passion, as this candle burns for up to 7 hours, allowing for prolonged intimate encounters.
5. Non-Pore Clogging: Rest assured that this soy-based candle will not clog your pores, making it suitable for all skin types.
6. Versatile Use: Use it to create a romantic ambiance with its soft, flickering glow and then transition seamlessly into a sensual massage experience.
How to Use:
Light the candle and let it burn for approximately 20 minutes to create the ideal oil consistency.

Gently extinguish the flame.

Pour a small quantity of the warm, sensual oil into the palm of your hand.

Apply liberally all over the body for a sensuous and intimate massage.
Ingredients:
Hydrogenated Soybean Oil, Coconut Oil, Fragrance, Sweet Almond Oil, Safflower Oil, Avocado Oil, Sesame Oil, Grape Seed Oil, Vitamin E Tocopherol, Benzyl Alcohol, Cinnamyl Alcohol, Citral, Amylcinnamyl Alcohol, Eugenol, Isoeugenol, Benzyl Salicylate, Cinnamal, Coumarin, D-Limonene, Geraniol, Benzyl Cinnamate, Lilial, Linalool, Benzyl Benzoate, Alpha Isomethyl Ionone, Methyl 2-Octynoate, Farnesol, Canola Oil.
Elevate Your Sensual Experience: Whether you're igniting the spark of romance or enhancing your intimate connections, the Shunga Erotic Art Massage Candle Exotic Fruits is your passport to a world of pleasure and intimacy.
Indulge Your Desires: Elevate your sensual experiences and create unforgettable moments of passion with this exquisite massage candle. Order yours now and ignite the flames of desire in your relationship!
Fast And Discreet Shipping