Roll over image to zoom in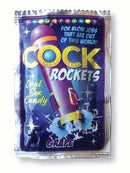 Description
Get ready to take your oral pleasure to new heights with Cock Rockets Grape from Candy Prints. These unique and exciting oral products are designed to make blow jobs out of this world.
Key Features:
1. Explosive Flavor: Cock Rockets Grape are bursting with a delicious grape flavor that adds a tantalizing twist to your intimate moments. It's a taste explosion that will leave you craving more.
2. Assorted Flavors: In addition to Grape, explore other tempting flavors like Watermelon and Strawberry (each sold separately). Mix and match for a variety of delicious experiences.
3. Party Games and Gifts: These delectable treats are perfect for spicing up party games, making them a fun addition to bachelorette parties, adult gatherings, or intimate celebrations.
4. Suitable for Couples: Whether you're enjoying them as a couple or in a group setting, Cock Rockets Grape are designed to enhance the pleasure of oral activities, making them more exciting and enjoyable.
5. Categories: Find Cock Rockets Grape in the Adult Candy and Erotic Foods section, specifically under Oral Products. They're a sweet and satisfying addition to your intimate repertoire.
Indulge in the explosive flavor of Cock Rockets Grape and take your oral experiences to a whole new level. These tantalizing treats are designed to make your intimate moments even more memorable. Elevate your pleasure and explore the variety of flavors available to satisfy your cravings. Get ready for an adventure that's as sweet as it is exciting!
Fast And Discreet Shipping