Roll over image to zoom in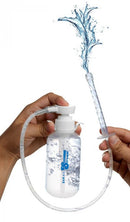 Description
Experience effortless and precise anal cleansing with the Clean Stream Pump Enema Kit by XR Brands. This advanced anal douche kit includes a 300ml (approximately 10.14 ounces) capacity bottle with a pump and nozzle, offering you the ultimate convenience for delivering your own enema.
Unlike traditional enema bulbs or gravity systems, the Clean Stream Pump Enema Bottle provides you with enhanced control and ease of use. The bottle's measurement markers ensure accurate fluid filling, while the syringe-style pump handles allow for effortless fluid transfer through the long, flexible tube, all achievable with just one hand.
Crafted from premium, non-porous silicone, the petite nozzle ensures smooth and comfortable insertion. Its unique bulbed design with side holes allows for more effective cleaning of your inner walls, ensuring a thorough cleansing experience.
Rest assured, your hygiene and safety are our priority; the materials used are silicone and polyethylene, making it easy to clean with mild soap and warm water after each use.
Measurements:
Nozzle: 4.5 inches in length, 0.5 inches in diameter.
Bottle Volume: 10.14 fluid ounces.
Bottle with Pump: 7.5 inches in height, 2.5 inches in diameter.
Hose Length: 17.5 inches.
Please note that the Clean Stream Pump Enema Kit is not compatible with silicone lubricants.
Achieve optimal comfort and cleanliness with the XR Brands Clean Stream Pump Enema Kit, designed to make your anal hygiene routine hassle-free and effective. Embrace the convenience and control of this top-notch enema solution for a fresh and revitalized experience.
Fast And Discreet Shipping