Roll over image to zoom in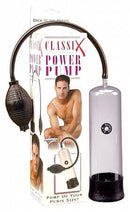 Description
Discover the Classix Power Pump, your gateway to a more fulfilling intimate experience. Increase your penis size and thickness while indulging in the hardest erections you've ever had. Whether you're seeking endurance training or engaging in playful foreplay with your partner, this pump is designed to take your pleasure to new heights.
The Classix Power Pump features a convenient port-side release hole for easy operation. Measuring 7.5 inches long and 2.5 inches wide, with an inner diameter of 2.25 inches, it's tailored to provide a comfortable yet effective fit. Crafted from phthalate-free, non-toxic ABS plastic, you can feel confident about its safety and durability.
Rest assured, the Classix Power Pump is sourced from China, boasting premium quality that won't disappoint. With package dimensions of Depth 3.00 inches, Width 3.00 inches, and Height 13.00 inches, and a packaged weight of 8.25 ounces, this pump is both practical and efficient.
Unlock the ultimate pleasure experience and go back to the basics with the Classix Power Pump. Elevate your intimate moments and explore newfound dimensions of satisfaction. Order yours today to embark on an extraordinary journey of passion and pleasure.
Fast And Discreet Shipping