Roll over image to zoom in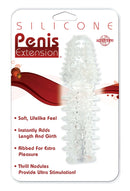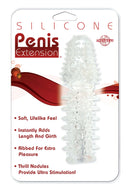 Description
The Silicone Penis Extension is a fantastic addition to your intimate play, offering an arousing and lifelike feel that brings extra pleasure to you and your partner. This soft and flexible penis extension is designed with thrilling ribbed nodules, providing both erotic stimulation and additional length and girth to take your pleasure to new heights. It's the perfect solution for those looking to add a little extra excitement and satisfaction to their intimate encounters.
Features:
Sensational Ribbed Design: The penis extension is crafted with stimulating nodules along its surface, delivering exciting sensations for both partners during use.
Realistic Feel: Made from high-quality, phthalate-free silicone, the extension feels incredibly lifelike, adding to the authenticity of your intimate experience.
Length and Width Enhancement: With a length of 5.5 inches and a width of 1.25 inches, the extension adds extra size to your natural anatomy for a more fulfilling experience.
Comfortable Girth: With a girth of 3.5 inches, the extension provides a comfortable fit while still offering a satisfying feeling of fullness.
Non-Toxic and Safe: The penis extension is made from body-safe silicone, ensuring a pleasurable and worry-free experience.
Easy to Use: Simply slip the extension over the penis for an instant boost in length and girth, allowing you and your partner to explore newfound pleasure together.
Discreet Packaging: The extension comes in a box that maintains your privacy and can be easily stored when not in use.
Embrace the pleasure of added length, texture, and excitement with the Silicone Penis Extension. Whether you want to surprise your partner with a little extra or explore new sensations during solo play, this extension is sure to bring satisfaction and pleasure to your intimate moments. Enjoy a heightened sexual experience with this thrilling and versatile addition to your bedroom adventures.
Fast And Discreet Shipping