Roll over image to zoom in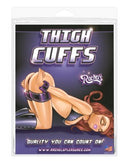 Description
Indulge in a world of heightened passion and sensuality with Rachel's Pleasures Thigh Cuffs. This alluring and versatile bondage accessory is designed to add an extra layer of excitement and control to your intimate encounters.
Crafted with attention to detail, these thigh cuffs feature a secure and comfortable fit, ensuring they stay in place while you explore new depths of pleasure. Each thigh cuff comes with a hand cuff attachment, creating a captivating connection between you and your partner.
The combination of the thigh cuffs and hand cuffs allows for thrilling role-playing scenarios, where the dominant partner can take charge and lead their submissive on an unforgettable journey of pleasure and submission.
Whether you're an experienced bondage enthusiast or a curious beginner, Rachel's Pleasures Thigh Cuffs offer an easy-to-use and discreet option for adding a touch of kink to your bedroom play.
Unleash your fantasies and unlock new levels of intimacy with this tantalizing bondage accessory. Get ready to elevate your passion and take control of your desires with Rachel's Pleasures Thigh Cuffs. Embrace the art of restraint and surrender, and create unforgettable memories together. Are you ready to explore the possibilities?
Fast And Discreet Shipping