Roll over image to zoom in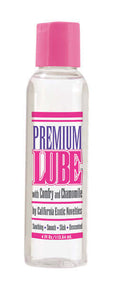 Description
Experience the ultimate in lubrication with Premium Lube, a high-quality unscented water-based lubricant infused with soothing Comfrey and Chamomile. This premium formula provides a smooth and slick texture for long-lasting results, enhancing your intimate moments with comfort and pleasure.
Key Features:
Unscented and High-Quality: Premium Lube is designed to be unscented, allowing you to focus solely on your sensual experiences without distractions.
Infused with Comfrey and Chamomile: This exceptional lubricant is enriched with Comfrey and Chamomile, known for their soothing properties, adding an extra layer of comfort to your encounters.
Long-Lasting Formula: The smooth and slick formula ensures long-lasting lubrication, so you can enjoy uninterrupted pleasure.
Made in the USA: Rest assured knowing that Premium Lube is proudly made in the USA, meeting high-quality standards.
Specifications:
Elevate your intimate moments with the exquisite lubrication provided by Premium Lube, a trusted choice for enhancing your sexual wellness.
Category: Water-Based Lubricant, Unscented Lubricant, Premium Lubricant Note: Premium Lube is a registered trademark for California Exotic Novelties.
Fast And Discreet Shipping