Roll over image to zoom in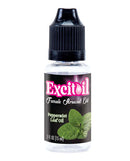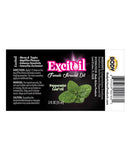 Description
Experience heightened pleasure and intensified excitement with Excitoil Female Arousal Peppermint Arousal Oil from Body Action Products. This best-selling and popular product is designed to enhance female stimulation, providing a warm and tingling sensation that amplifies pleasure and increases sensitivity.
To use, simply apply 1 to 2 drops to the top of the clitoris and feel the delightful tingling sensation take over. For even more sensations, add an additional drop and immerse yourself in the ultimate pleasure experience.
Formulated with Peppermint Leaf Oil, this arousal oil dramatically intensifies intimate activity, making orgasms more gratifying and intimate moments more exhilarating. The gel's innovative blend of Cyclopentasiloxane, Dimethicone, Dimethiconol, and Mentha Piperita (Peppermint Oil) ensures a smooth and sensual application.
Please note that Excitoil is for topical use only and should not be applied to broken or irritated skin. If any irritation occurs, discontinue use immediately. Keep the product out of reach of children and be cautious not to exceed the recommended application for maximum comfort.
Indulge in a heightened state of arousal and pleasure with Excitoil Peppermint Arousal Oil, your key to unlocking a world of ecstasy. Enhance your intimate moments and embark on a journey of delight and satisfaction with this enticing and invigorating arousal oil. Enjoy the tantalizing sensations and amplified pleasure that this product brings to your intimate experiences. Ideal for anyone seeking an enhanced and exciting journey of pleasure.
Categories: Erotic Body Lotions, Oil-Based Arousal Oils, Health and Beauty Aids, Intimate Oils.
Fast And Discreet Shipping