Roll over image to zoom in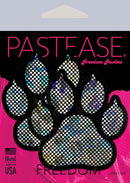 Description
Pastease presents their Paw Print Silver Nipple Pasties, designed to add a touch of excitement and playfulness to your outfits and intimate moments. Handmade in the USA, these pasties are crafted with soft, form-fitting material that seamlessly conforms to your curves, ensuring a comfortable fit that resists wrinkling even over hardening nipples.
Easy Application: Applying these pasties is a breeze - simply peel and stick them onto clean, dry skin. The latex-free, medical-grade, waterproof adhesive ensures a secure hold that lasts as long as you desire. When you're ready, they can be easily and gently removed without any discomfort.
Versatile and Fun: Whether you want to conceal or reveal, these Paw Print Silver Nipple Pasties are perfect for accessorizing your favorite sexy outfits, daring bikinis, sheer tops, revealing dresses, or even when you want to add a playful touch to nothing at all! They also make a fun addition to themed parties, crazy costumes, and playful moments with your partner.
Dimensions: Each pasty measures 2.8 inches by 2.8 inches, providing ample coverage for your nipples while accentuating your sensuality. The coverage area is approximately 2.1 inches in diameter.
Uniquely Handmade: Please note that all Pastease products are lovingly handcrafted, which means the finished product you receive may have slight variations from the posted image. This adds to the charm and uniqueness of each set of pasties.
Release Your Inner Tease: Embrace your sexy and playful side with Pastease Paw Print Silver Shattered Disco Ball Pasties! They are not just an accessory; they are a fun-maker that allows you to explore your freedom and creativity in intimate and exciting ways.
Categories: Discover these pasties in the Lingerie, Clothing, Sexy Costume Accessories, Nipple Play, Pasties, and Accessories categories. Let your imagination run wild and enjoy the thrilling adventures that Pastease pasties have to offer!
Fast And Discreet Shipping