Roll over image to zoom in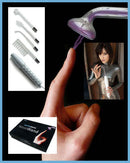 Description
Take your pleasure to electrifying new heights with the Kinklabs Neon Wand in captivating Purple. This state-of-the-art electro-stimulation device is designed to provide shock sensations that will leave you or your partner tingling with desire.
Key Features:
Create shocking sensations with the Neon Wand
Spark jumps between the electrode and the body for thrilling sensations
Purple color for a visually stimulating experience
Includes a variety of electrodes for versatile play: Electrode Comb, Mushroom Tube, 90-degree Probe, Tongue Tube
Suitable for both experienced users and newcomers
Available in 110v and 220v options
Choose from two colors: Purple or Orange
The Neon Wand is the perfect addition to your collection of pleasure devices, offering an electrifying experience that's sure to awaken your senses. As you hold the wand near the body, sparks jump, providing a sensation that's both thrilling and unique.
This kit includes a range of electrodes, including the Electrode Comb, Mushroom Tube, 90-degree Probe, and Tongue Tube, allowing you to explore different sensations and play styles. Whether you're a seasoned pro or new to electro-stimulation, the Neon Wand will ignite your passion and curiosity.
Please note that the Neon Wand is available in two colors, Purple and Orange, as well as various voltage options (110v for USA and 220v for Europe). Each Neon Wand Electrosex Kit is sold separately, so you can choose the one that suits your desires.
Fast And Discreet Shipping