Roll over image to zoom in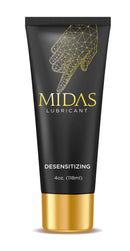 Description
Enhance your intimate moments with Midas Desensitizing Lube, an exceptional lubricant formula from Little Genie. Specifically designed to minimize sensitivity without sacrificing sensation, this lube allows you to immerse yourself fully in the pleasure of the moment while ensuring comfort and ease.
Key Features:
Desensitizing Power: Contains 5% Benzocaine, a well-regarded desensitizing agent that aids in making intimate experiences more comfortable.

Stay-Put Gel Formula: Midas Gel is a thick, creamy gel that stays where you apply it, ensuring consistent lubrication without the mess.

Easy Cleanup: Its water-based formula ensures that Midas Gel can be effortlessly rinsed off the skin with water.

Versatile: Suitable for solo play or with a partner, allowing for a wide range of applications.

Safe and Gentle: Specifically formulated to reduce irritation, discomfort, and dryness during intimate moments.
Specifications:
Brand: Little Genie

Volume: 4 fluid ounces

Main Ingredient: 5% Benzocaine

Texture: Thick, creamy gel
Usage Tips:
Apply a desired amount to intimate areas before and during play.

It's always recommended to do a patch test before full application, especially if you have sensitive skin.

Keep out of reach of children.

Store in a cool, dry place away from direct sunlight.
Categories: Lubricants, Desensitizing Lube, Anal Lubes, Health and Beauty, Lotions, Sprays, Creams.
Dive into a world of heightened pleasure without the worry of discomfort. With Midas Desensitizing Lube, experience the Gold Standard of lubricants that promises both pleasure and comfort in one. Whether it's for a passionate evening or a solo session, ensure every touch feels just right.
Fast And Discreet Shipping