Roll over image to zoom in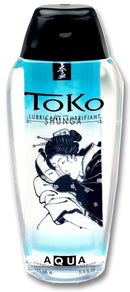 Description
Elevate your intimate experiences with Shunga Erotic Art's Toko Aqua Lubricant, a harmonious blend of sensuality and artistry. Presented in an alluring bottle adorned with captivating Japanese-inspired imagery, Toko Aqua is the epitome of next-generation lubrication, thoughtfully crafted to enhance pleasure and intimacy.
Unveil a world of natural lubrication and effortless penetration with Toko Aqua, an exceptional water-based lubricant meticulously designed to mimic the body's own moisture. Its exquisite silkiness and prolonged longevity heighten sensual sensations, amplifying moments of intense passion and arousal.
Toko Aqua lubricant transcends boundaries, catering to a myriad of intimate desires. Its versatile formula ensures compatibility with all sexual activities, including use with silicone toys, offering a seamless and pleasurable experience. With the ease of soap and water, this enchanting lubricant effortlessly washes away, leaving no traces on fabrics.
Experience the art of heightened intimacy and explore your desires with confidence, as Toko Aqua embraces the essence of elegance and pleasure. Unleash your passions and indulge in the luxurious world of Shunga Erotic Art.
Categories: Discover the allure of the Lubricant category, an essential addition to your intimate repertoire. Embrace the fusion of art and sensuality with Shunga Erotic Art's Toko Aqua Lubricant, where every encounter becomes a masterpiece of pleasure.
Fast And Discreet Shipping