Roll over image to zoom in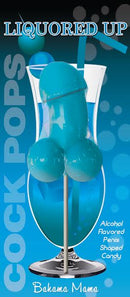 Description
Treat yourself to a tantalizing and playful experience with Liquored Up Cock Pops in the delightful Bahama Mama flavor from Hott Products Unlimited. These alcohol-flavored penis-shaped candies are perfect for adding a touch of cheeky fun to any occasion.
Indulge in the tropical essence of Bahama Mama as you savor the unique taste of these candy delights. Each pop is shaped like a playful penis, making them a hilarious and entertaining treat for adult gatherings or bachelorette parties.
Liquored Up Cock Pops are sure to spark laughter and create unforgettable memories as you enjoy the playful shape and delicious flavor. They are a great conversation starter and a unique way to liven up any event.
Bring out the fun and excitement with these alcohol-infused candies that are perfect for sharing with friends or as a surprising gift. Whether you're celebrating a special occasion or simply looking to add a touch of humor to your day, Liquored Up Cock Pops will deliver a memorable experience.
Add a dash of playfulness to your next celebration with these Bahama Mama flavored penis-shaped candies from Hott Products Unlimited. Get ready to enjoy a taste that's as delightful as the laughs they bring!
Fast And Discreet Shipping