Roll over image to zoom in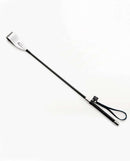 Description
Elevate your bedroom bondage adventures with the Fifty Shades of Grey Sweet Sting Riding Crop, a seductive addition to the Official Pleasure Collection inspired by the iconic series. This slender riding crop whip serves as an extension of your desires, providing sensual strokes and tantalizing spanks that will awaken your deepest passions.
Key Features:
Sensual Exploration: The graceful length of this riding crop allows you to control a thick leather tip with precision, caressing and teasing your lover's body to full arousal.

Heightened Pleasure: As the silver tip traces across your skin, it awakens your pleasure zones, leaving them sensitized and eager for your partner's every whim.

Pleasure-Pain Balance: The riding crop delivers intermittent hits that leave behind sharp, warming stings, gradually subsiding under the soothing strokes that follow, leaving you tingling with desire.

Precise Stimulation: This horse whip is expertly designed to stimulate the most sensitive areas of your body, offering a perfect blend of pleasure and pain that ignites lust-filled sensations.

Enhance Sensations: Combine the crop with a blindfold, spanker, or feather tickler to heighten your senses and make every touch more electrifying, turning your bondage fantasy into a crescendo of pleasure.

Quality Craftsmanship: Crafted to the highest standards, Sweet Sting features leather details on the wrist strap and tip, a braided stem, and a soft rubber handle for comfort, effectiveness, and durability.
Prepare to embark on a journey of erotic exploration, where pleasure and sensation reach new heights. Whether you're new to BDSM or an experienced enthusiast, the Sweet Sting Riding Crop will unlock the desires you've been yearning for.
Indulge in the seductive world of Fifty Shades of Grey and bring your intimate fantasies to life with this exquisite riding crop. Explore the boundaries of pleasure and pain, and surrender to the passion that awaits.
Note: Always practice safe, consensual, and respectful play in all your bondage adventures.
Manufacturer: Fifty Shades of Grey Official Pleasure Collection, inspired by E.L. James' beloved series and designed to fulfill your deepest desires.
Unleash your inner desires and experience the thrilling sensations of the Sweet Sting Riding Crop from the Fifty Shades of Grey Official Pleasure Collection. Explore the world of bondage and discover the pleasure that comes with surrendering to your deepest passions.
Fast And Discreet Shipping