Roll over image to zoom in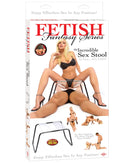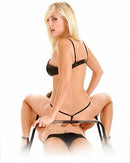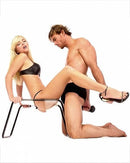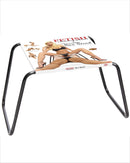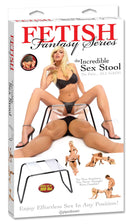 Description
Revolutionize your intimate experiences with the Fetish Fantasy Sex Stool. Designed for those seeking adventure, comfort, and extended play, it's the ideal addition to your bedroom repertoire.
Key Features:
Weightless Pleasure: Bounce with ease, delve into new positions, and enjoy movements previously thought to be challenging or impossible.

Sturdy Build: Made with a heavy-duty tubular steel frame, this sex stool is built to last, supporting up to 300 pounds.

Flexible Seat: Crafted from high-strength TPU, the seat is not only flexible but also easy to clean, ensuring hygiene is never compromised.

Deep Penetration: An opening in the center of the seat allows for closer contact and deeper penetration, enhancing pleasure and intimacy.

Discreet Design: With its subtle appearance, it easily blends into your bedroom setting, looking just like any regular chair or stool.

Dimensions: With a top width of 15.5 inches, a breadth of 17 inches, a height of 15 inches, and an overall length of 24 inches, it's spacious yet compact.

Material Composition: The stool boasts a metal frame for durability, while the seat is made from Thermoplastic Polyurethanes (TPU) for flexibility.
Categories: Sexual Wellness, Bedroom Accessories, Adult Furniture.
With the Fetish Fantasy Sex Stool, unlock a world of new possibilities in your intimate moments. Say goodbye to physical strain and hello to boundless pleasure and exploration! Whether you're a seasoned enthusiast or just beginning to explore, this stool promises to elevate your experiences. Dive into deeper sensations and passionate play today!
Fast And Discreet Shipping