Roll over image to zoom in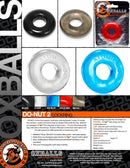 Description
Experience shockingly superior pleasure with the Oxballs Do-Nut 2 Cock Ring in Smoke color. This innovative take on the traditional jelly cock ring is designed to elevate your intimate encounters to a whole new level of satisfaction.
Crafted from Oxballs' signature Flex TPR, the Do-Nut 2 is incredibly stretchy and soft to the touch, offering a comfortable and pleasurable fit. It builds on the success of the original Do-Nut 1 design but takes it a step further with a squishier, bigger, and longer-lasting construction.
Not only does Do-Nut 2 enhance your performance, but it also doubles as a stackable ball ring, providing a delightful stretching sensation. It pushes your package up and out, accentuates your bulge, and forces your ball sack forward, resulting in a plumper and more impressive look.
Designed for all-day wear and play, this thick and sturdy jelly ring ensures a rock-solid erection, guaranteeing explosive sex play or solo pleasure. Whether you're indulging in partner play or enjoying some private time, Do-Nut 2 delivers unmatched pleasure.
Made from tough Flex TPR, this ring is not your average jelly ring. It boasts incredible strength, stretch, and an amazing feel. The Do-Nut 2 stretches up to three times its size but snaps back to its original shape, ensuring durability and long-lasting enjoyment.
Elevate your intimate experiences with the Oxballs Do-Nut 2 Cock Ring in Smoke. It's time to get boned, stay hard, and enjoy the pleasure you deserve. Perfect for any lover of love rings, cock rings, and men's cock and ball gear.
Fast And Discreet Shipping