Roll over image to zoom in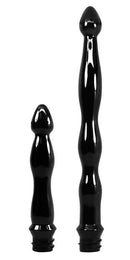 Description
Elevate your personal hygiene routine with the Cloud 9 Fresh+ Deluxe Anal Enema Douche Kit. Designed for comfort, ease, and hygienic cleansing, this kit provides a convenient and effective way to ensure your cleanliness and confidence. Whether you're preparing for intimate moments or simply prioritizing your well-being, the Cloud 9 Enema Douche Kit has you covered.
Key Features:
Generous Capacity: With a capacity of 10.8 ounces, this kit allows you to fill it with your preferred liquid for cleansing, ensuring a thorough and comfortable experience.
EZ Squeeze Bulb: The soft PVC EZ Squeeze Bulb is designed for easy and controlled use. Its ergonomic design ensures a comfortable grip, allowing you to dispense the liquid with precision.
Soft Nozzle: The kit includes a soft nozzle that allows for precise water dispersion during cleansing. The nozzle is easily detachable for convenient cleaning as part of your hygiene regimen.
Two Nozzle Options: Choose between the extra-long extended reach nozzle (10 inches) and the medium comfort nozzle (5.5 inches) for personalized comfort and effectiveness.
Body-Safe Materials: Made from phthalate-free and non-toxic materials, the Cloud 9 Enema Douche Kit prioritizes your safety and well-being.
Versatile Use: This kit can be used as a vaginal douche or an anal cleaner, offering versatility to suit your preferences and needs.
Bonus Nozzle Tips: The kit includes a bonus extended reach nozzle and a straight tapered tip nozzle for added options.
1 Year Warranty: Cloud 9 stands behind the quality of their product with a 1-year consumer warranty, providing you with peace of mind.
Hygienic Cleaning: Thoroughly clean the kit before and after each use with antibacterial soap or Cloud 9 Toy Cleaner. Store it in a cool dry place after cleaning.
Specifications:
Height: 5 inches (without nozzle tip)
Width: 4 inches
Length: 4 inches
Nozzle Tips: Long nozzle (10 inches), Short nozzle (5.5 inches)
Weight: 8.4 ounces
Prioritize your well-being and intimate cleanliness with the Cloud 9 Fresh+ Deluxe Anal Enema Douche Kit. Enjoy the comfort, convenience, and effectiveness of this hygienic cleansing solution that's designed to enhance your confidence and comfort. Whether for intimate moments or everyday freshness, this kit offers a reliable and safe way to maintain your hygiene.
Fast And Discreet Shipping