Roll over image to zoom in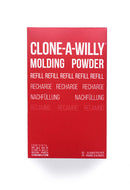 Description
If you've ever embarked on the exciting journey of creating your own personalized Clone-A-Willy dildo and need another shot at perfection, the Clone-A-Willy Refill Molding Powder is your solution. This 3-ounce box of molding powder provides you with the opportunity to try, try again until you achieve the perfect replica.
Sometimes the first attempt might not yield the desired results, and that's where the Clone-A-Willy Refill Molding Powder comes to the rescue. This refill kit includes enough high-quality molding powder to create two additional molds, giving you the chance to fine-tune the process and achieve the ultimate customized pleasure product.
Made from silicone, the molding powder is the same high-quality material that's included in the original Clone-A-Willy kit. This ensures that you're getting the best results possible and that you're able to create a lifelike replica of your favorite appendage.
Whether you're embarking on this journey for the first time or looking to improve upon your previous attempts, the Clone-A-Willy Refill Molding Powder provides you with the materials you need to create your very own personalized pleasure product. Remember, practice makes perfect, and with this refill kit, you're one step closer to achieving the ultimate intimate replica.
Fast And Discreet Shipping