Roll over image to zoom in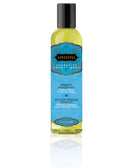 Description
Elevate your sense of touch and intimacy with the luxurious Kama Sutra Aromatic Massage Oil Serenity. This exquisite spa collection is designed to inspire relaxation and passion through sensual, full-body massages that captivate the senses.
Crafted with essential oils known for promoting deep relaxation and skin-nourishing Vitamin E, this massage oil offers a silky-smooth glide that moisturizes and nourishes the skin, leaving it healthy and beautiful. Enjoy the long-lasting formula that's perfect for indulging in a sensuous full-body massage.
Serenity, a calming blend of marjoram, geranium, and lavender essences, is designed to ease stress and release tension. Whether you're giving or receiving, this rich, emollient formula will enhance your massage experience.
Additionally, Kama Sutra's Aromatic Massage Oil can be poured into the bath for a luxurious soak or applied as a daily moisturizer to keep your skin silky and hydrated.
Allergy tested and made in the USA, this massage oil offers the highest standard of pampering. It complies with safety regulations under the Federal Food, Drug, and Cosmetic Act, ensuring your peace of mind.
Please note: Avoid contact with eyes, and wash hands after handling. Store the container upright in a cool, dry, well-ventilated area, out of direct sunlight, and away from children's reach.
Experience the ultimate in sensual massage with Kama Sutra Aromatic Massage Oil Serenity and discover a world of relaxation and pleasure.
Categories: Massage Oils, Sensual Massage, Essential Oil Blends, Skin-Nourishing Formulas, Relaxation, Intimacy.
Fast And Discreet Shipping